---
Arthur
---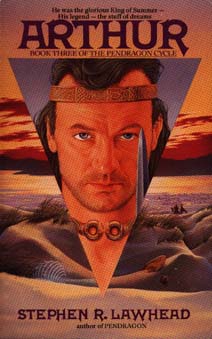 ---
Book Three of the Pendragon Cycle Arthur by Stephen R. Lawhead
Excerpts from Avon Books 1350 Avenue of the Americas, New York, New York, 10019
---
In A forgotten age of chaos and darkness, a magnificent kind arose to light the land.
The called him unfit to rule--a lowborn, callow boy. Uther's bastard. But his coming had been foretold in the sons of the bard Taliesin. He had learned powerful secrets at the knee of the mystical sage Merlin. He was Arthur, Pendgragon of the Island of the Mighty -- who would rise to legendary greatness in a Britian torn by violence, greed and war...who would usher in a glorious regin of peace and prosperity..and who would fall at the treacherous hands of the one he loved more than life.
The stunning conclusion to the Arthurian saga from the award-winning author of THE DRAGON KING TRILOGY.
Published by Avon Books 1350 Avenue of the Americas, New York, New York.
---
Go Back to the Stephen R. Lawhead Page