---
The Siege of Dome
---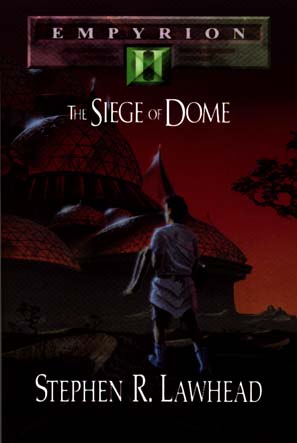 ---
Empyrion II: The Siege of Dome by Stephen R. Lawhead
Excerpts from Zondervan/HarperPrism Books 10 East 53rd Street, New York, New York, 10022-5299
---
How resilient is the human spirit in the face of merciless oppression? What values in life stand up to certain death?
In the second and concluding Empyrion book, Orion Treet determines to return to Dome after his brief respite among the peaceable, graceful Fieri. No One but Orion and a handful of rebels seriously believes that Dome will carry out its threat to annihilate Fierra. Abandoned by his companions from Earth, Treet becomes a solitary figure in a deadly civil war.
The Empyrion novels are among Lawhead's most captiviating accomplishments of storytelling and adventure--the best there is in science fiction.
Published by Zondervan Publishing House/HarperPrism Books, 10 East 53rd Street, New York, New York.
---
Go Back to the Stephen R. Lawhead Page