---
The Iron Lance
---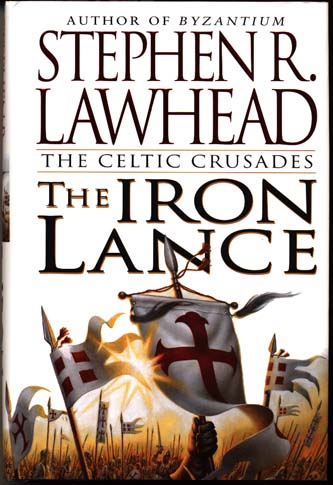 ---
The Iron Lance by Stephen R. Lawhead
Excerpts from HarperPrism Books 10 East 53rd Street, New York, New York, 10022-5299
---
Admist visions of the ancient past, a Scottish lawyer glimpses the harrowing pilgrimage of an ancestor whose fight for his family's future leads him into the terrifying maelstrom of the Crusades.
In the year 1095, Pope Urban II declared war on the infidel. Kings, princes, and lords throughout Europe took up the Cross and joined the Crusade. It was Murdo Ranulfson's duty to guard his family's interests while his father and brothers fought to win Jersalem. But when a greedy king and corrupt clergy charged with the protection of Orkney become its worst enemies, Murdo must undertake the pilgrimage himself.
Driven to sea, Murdo follows the Crusades in the hope of findhing his father and redeeming his family's land. His epic journey leads him to the heart to the civilized world, the Mediterranean, where the Emperor Alexius struggles to fend off the barbarian hordes that would rend Christendom and engulf the world in darkness.
Murdo's quest carries him to the fabled city of Constantinople and beyond to the Holy Land, guarded by the sword points of the Saracens. Admist unimaginable brutality and ambition, he finds the man he seeks--and obtains the relic that will guide his life and the lives of his descendants for centuries.
Published by HarperPrism Books 10 East 53rd Street, New York, New York.
---
Go Back to the Stephen R. Lawhead Page