---
The Endless Knot
---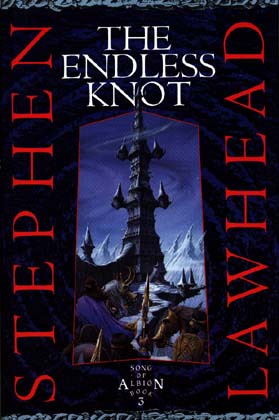 ---
Song Of Albion Book 3 The Endless Knott by Stephen R. Lawhead
Excerpts from Lion Books 1705 Hubbard Avenue, Batavia, Illinois
---
"Hear, O Son of Albion: Blood is born of blood. Flesh is born of flesh. But the spirit is born of spirit, and the Spirit everymore remains. Before Albion is One, the Hero Feat must be performed and Silver Hand must reign."
Fire rages in Albion: a strange, hidden fire, dark-flamed, invisible to the eye. Seething and churning, it burns, gathering flames of darkness into its hot black heart. Unseen and unknown, it burns...
LLew Silver Hand is High King of Albion and the Brazen Man has defied his sovereignty. Llew must journey into the Foul Land to redeem his greatest treasure. The Last battle begins.
Published by Lion Books 1705 Hubbard Avenue, Batavua, Illinois
and
Published by Avon Books 1350 Avenue of the Americas, New York, New York.
---
Go Back to the Stephen R. Lawhead Page