---
Merlin
---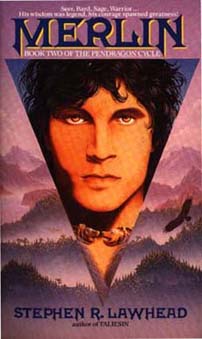 ---
Book Two of the Pendragon Cycle Merlin by Stephen R. Lawhead
Excerpts from Avon Books 1350 Avenue of the Americas, New York, New York, 10019
---
A Stunning Saga of Courage and Destiny in a Legendary Time of Chaos and Kings
He was born to greatness, the son of a druid bard and a princess of lost Atlantis. A trained warrior, blessed with the gifts of prophecy and song, he grew to manhood in a Britian abandoned by its Roman conquerors-- a land ravaged by the brutal greed of petty chieftains and barbarian invaders. Respected, feared, and hated by many, he was to have a higher destiny:to prepare the way for the momentous event that would unite the Island of the Mighty -- the coming of Arthur Pendragon, Lord of the Kingdom of Summer....
The miraculous epic adventure continues from the award-winning author of THE DRAGON KING TRILOGY -- a stirring mix of magic, legend, and history that will enthral, enchant, and lift the heart.
Published by Avon Books 1350 Avenue of the Americas, New York, New York.
---
Go Back to the Stephen R. Lawhead Page