---
The Paradise War
---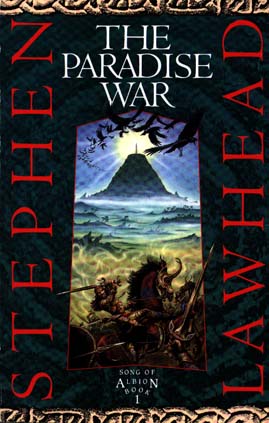 ---
Song Of Albion Book 1 The Paradise War by Stephen R. Lawhead
Excerpts from Lion Books 1705 Hubbard Avenue, Batavia, Illinois
---
Wolves Prowling the streets of Oxford, A Green Man haunting the Highlands, Lewis Gillies is face to face with an ancient mystery.
Drawn from the dreaming spires of Oxford to the misty moors and glens of Scotland, Lewis expects little more than a pleasant weekend away. But the road north leads to a mystical crossroads, and he finds himself in a place where two worlds meet, in the time-between-times.
The ancient Celts admitted no seperation between this world and the Otherworld: the two were delicately interwoven, each dependent on the other. In The Paradise War, this balance is disturbed--a breach has opened between the worlds and cosmic catastrophe threatens.
Published by Lion Books 1705 Hubbard Avenue, Batavua, Illinois
and
Published by Avon Books 1350 Avenue of the Americas, New York, New York.
---
Go Back to the Stephen R. Lawhead Page