---
The Silver Hand
---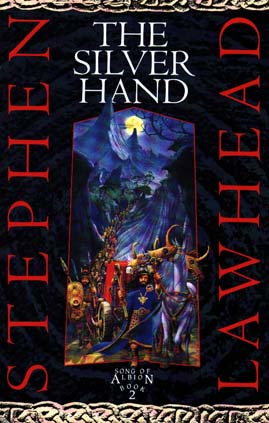 ---
Song Of Albion Book 2 The Silver Hand by Stephen R. Lawhead
Excerpts from Lion Books 1705 Hubbard Avenue, Batavia, Illinois
---
"Hear, O Son of Albion: Blood is born of blood, Flesh is born of flesh, But the spirit is born of Spirit, and with Spirit evermore remains. Before Albion is One, the Hero Feat must be performed and Silver Hand must reign"
The great king, Meldryn Mawr, is dead and his kingdom lies in ruins. Treachery and brutality stalk the land. Prince Meldron, prompted by the cunning and grasping Siawn Hy, now claims the throne.
But Tegid the bard holds the kingship---and his choice falls on another. The Day Of Strife begins.
Kingship, sovereignty and the making of a true king lies at the heart of this second book in the Sonmg of Albion trilogy. Herein lie passion and power, heartbreak and hope--the fate of Albion and the destiny of the long-awaited champion: Silver Hand.
Published by Lion Books 1705 Hubbard Avenue, Batavua, Illinois
and
Published by Avon Books 1350 Avenue of the Americas, New York, New York.
---
Go Back to the Stephen R. Lawhead Page